Video Gold Should Probably Be $5000 CME Chairman Duffy
Fed has caused frustration and confusion in market place
If you adjust for inflation, you should have gold somewhere around 2 to 3,000 per ounce
If you look at what is going on the world, gold should probably be $5,000 to $6,000 per ounce
Lot of us are so jaded about what is going on in the world, it is like yesterday's newspaper in five minutes
One day you will not be able to dismiss them and you will see a huge move in the precious metals
Gold coins are probably of more value than anything else CME President Duffy onBloomberg in 2013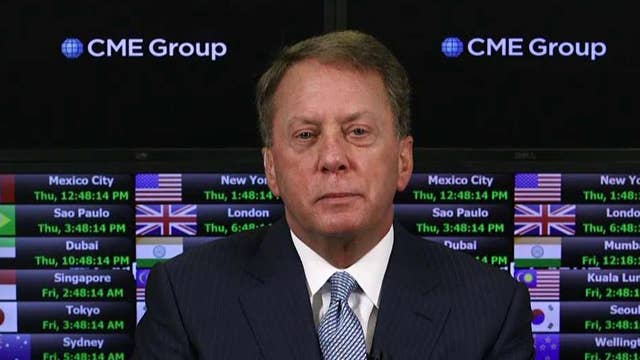 Watch CME Chairman Duffy on markets and gold on Fox Business
Related Content
Gold Coins Are Probably Of More Value Than Anything Else CME President
They Don't Want Certificates, They Want the Real Product CME President on Gold
Gold and Silver Bullion News andCommentary
Gold stretches streak of gains to a third session (MarketWatch.com)
Dollar dips after Yellen, loonie near 13-month high on BOC rate hike (Reuters.com)
Platinum demand faces massive impact from electric car growth: IPMI (Reuters.com)
U.S. Stocks, Bonds Jump on Go-Slow Fed; Oil Climbs (Bloomberg.com)
Janet Yellen Says Low Inflation Still Major Source of Uncertainty (Bloomberg.com)
Gold should probably be $5000-6000 per ounce: CME Group Chairman (FoxBusiness.com)
This hammered precious metal could surge 10 percent within months: Analyst (CNBC.com)
BoE regulator warns UK banks on accounting practices (FinancialTimes)
Credit market a bigger systemic risk than during 2008 crisis: Bank of England (Reuters.com)
Carillion's lesson for investors: pay attention to short-sellers (MoneySeek.com)
Gold Prices (LBMA AM)
13 Jul: USD 1,221.40, GBP 944.51 & EUR 1,071.05 per ounce
12 Jul: USD 1,219.40, GBP 947.60 & EUR 1,064.29 per ounce
11 Jul: USD 1,211.90, GBP 938.98 & EUR 1,063.68 per ounce
10 Jul: USD 1,207.55, GBP 938.63 & EUR 1,060.11 per ounce
07 Jul: USD 1,220.40, GBP 944.47 & EUR 1,068.95 per ounce
06 Jul: USD 1,224.30, GBP 946.14 & EUR 1,077.51 per ounce
05 Jul: USD 1,221.90, GBP 945.87 & EUR 1,078.45 per ounce
Silver Prices (LBMA)
13 Jul: USD 15.95, GBP 12.34 & EUR 14.00 per ounce
12 Jul: USD 15.83, GBP 12.31 & EUR 13.82 per ounce
11 Jul: USD 15.51, GBP 12.02 & EUR 13.61 per ounce
10 Jul: USD 15.22, GBP 11.82 & EUR 13.36 per ounce
07 Jul: USD 15.84, GBP 12.29 & EUR 13.88 per ounce
06 Jul: USD 16.01, GBP 12.36 & EUR 14.09 per ounce
05 Jul: USD 15.95, GBP 12.36 & EUR 14.09 per ounce
Recent Market Updates
India Gold Imports Surge To 5 Year High 220 Tons In May Alone
Silver's Plunge Is Nearing Completion
China, Russia Alliance Deepens Against American Overstretch
Silver Prices Bounce Higher After Futures Manipulated 7% Lower In Minute
Precious Metals Are Best Defence Against Bail-ins In Economic Crisis
Buy Gold Near $1,200 As Insurance UBS Wealth
UK House Prices 'On Brink' Of Massive 40% Collapse
Gold Up 8% In First Half 2017; Builds On 8.5% Gain In 2016
Pensions Timebomb In America National Crisis Cometh
London Property Bubble Bursting? UK In Unchartered Territory On Brexit and Election Mess
Shrinkflation Real Inflation Much Higher Than Reported
Goldman, Citi Turn Positive On Gold Despite Mysterious Flash Crash
Worst Crash In Our Lifetime Coming Jim Rogers
ImportantGuides
For your perusal, below are ourmostpopularguidesin 2017:
EssentialGuideTo Storing Gold In Switzerland
EssentialGuideTo Storing Gold In Singapore
EssentialGuideto Tax Free Gold Sovereigns (UK)
Please share our research with family, friends and colleagues who you think would benefit from being informed by it.
Special Offer Gold Sovereigns at 3% Premium London Storage
We have a very special offer on Sovereigns for London Storage today. Ownone of the most popular and liquid of all bullion coins GoldSovereignsat the lowest rates in the market for storage.
Limited GoldSovereigns (0.2354 oz) available

Pricing at spot + 3.0% premium

Allocated, segregated storage in London

Normally sellat spot gold plus 6.75% to 10%

One of most sought after bullion coins in the world

Mixed year, circulated bullion coins

Minimum order size is20 coins
These coins are at a very low price and with limited amounts at these record low prices we expect them to sell out very fast.
Call our office today
The post Video Gold Should Probably Be $5000 CME Chairman appeared first on GoldCore Gold Bullion Dealer.