Shariah Gold Standard Is "Revolutionary" Says Mark Mobius
One of the world's leading investors, Mark Mobius told a gold conference in Dubai that the new 'Shariah Gold Standard' is both "innovative and revolutionary" and importantly will bring "transparency" to the physical gold market which suffers from a lack of trust.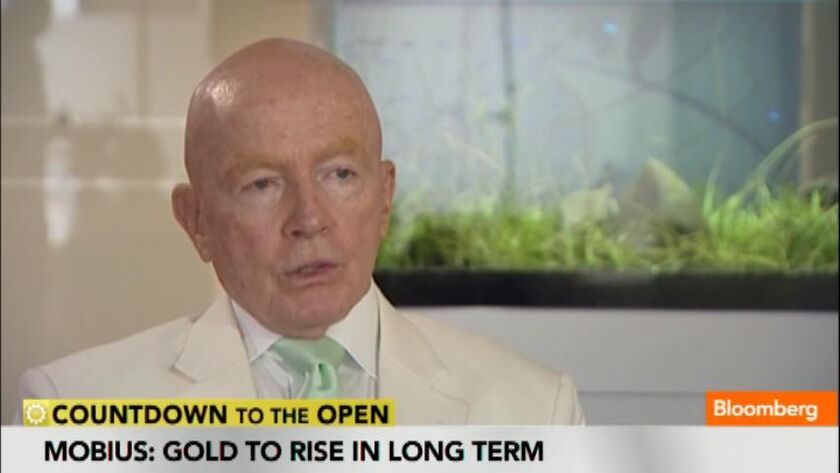 Source: Bloomberg
The executive chairman of Templeton Emerging Markets Group was speaking at the 'Gold in Islamic Finance' conference organised by the Accounting and Auditing Organisation for Islamic Financial Institutions (AAOIFI), the World Gold Council and Amanie Advisors and held in Dubai last Thursday.
"This standard is a God send. We have a global standard for gold. This is innovative and revolutionary" said Mark Mobius.
Dr Mobius drew the audiences attention to the growth potential in both the emerging markets and Islamic World of 1.6 billion people and some 100 million investors.
"This Shariah gold standard is a Godsend for those Islamic households that would like to invest in gold funds"
He drew attention to the economic growth of both the UAE and China and the growing middle classes and their increasing sophistication in terms of embracing tecnnology in terms of smartphone and internet penetration.
ETFs represent 30% of all mutual funds and this is growing rapidly he said, but these ETFs pose some risk and they are 'following the crowd.'
He is monitoring the growth in gold ETF inflows, plus the 'stealth buying' being done by central banks such as Russia and China.
Gold Vs MSCI World Islamic Index (2007 to 2016) – Mobius at 'Gold in Islamic Finance' conference
Mobius emphasised the importance of the fact that the new Shariah gold standard is all about the ownership of the underlying asset – allocated physical gold coins and or bars. He noted that the payment or exchange of cash must happen at the exchange of ownership.
He emphasised there will be a credibility problem even for gold-backed ETFs. He stated that the "issue of physical gold is a big one" and that just storing gold at the NY Fed Reserve in exchange for a receipt is not prudent.
Large bullion banks act as custodians for the gold held in gold ETFs and the custodians are generally subject to supervision by the Federal Reserve Bank of New York, the Federal Deposit Insurance Corporation (FDIC) and the Bank of England.
"Just trusting the NY Fed has your gold is no longer going to be enough…

Global investors are rightly demanding more transparency around physical gold custody due to a lack of trust…" 
The new Shariah Gold Standard is one of the reasons that Mobius is bullish on gold in 2017 and in the long term. He believes that gold will advance by 15 percent  before the end of 2017 as the Federal Reserve will go slow on increasing interest rates leading to increased gold bullion demand.
For more information on the Shariah Gold Standard and its ramifications for Islamic finance, the gold market and gold prices, please read see our research:
Shariah Gold Standard Approved for $2 Trillion Islamic Finance Market and Islamic Gold – Vital New Dynamic In Physical Gold Market
Gold and Silver Bullion – News and Commentary
Gold inches up as dollar slips ahead of Fed rate decision (Reuters.com)
Gold eases as U.S. Fed meets, global stock indexes rise (Reuters.com)
Gold Beaten Down as Fed's Rate-Hike Countdown Enters Final Hours (Bloomberg.com)
Central London house prices plunge amid Brexit fears and stamp duty hikes (Standard.co.uk)
SWIFT confirms new cyber thefts, hacking tactics (CNBC.com)
Finance Titans Face Off Over $5 Trillion London Gold Market (Bloomberg.com)
Doug Casey: "sell all your bonds" (CaseyResearch.com)
Mrs. O'Leary's Cow and the Next Crisis (InternationalMan.com)
India's Gold Play Driving Silver Prices Higher? (TheStreet.com)
Radical Modi could leave a trail of destruction (Reuters.com)
Gold Prices (LBMA AM)
14 Dec: USD 1,160.95, GBP 917.38 & EUR 1,091.99 per ounce
13 Dec: USD 1,157.35, GBP 911.18 & EUR 1,090.80 per ounce
12 Dec: USD 1,154.40, GBP 916.82 & EUR 1,089.41 per ounce
09 Dec: USD 1,168.90, GBP 927.64 & EUR 1,100.75 per ounce
08 Dec: USD 1,174.75, GBP 925.47 & EUR 1,088.64 per ounce
07 Dec: USD 1,171.25, GBP 929.62 & EUR 1,092.19 per ounce
06 Dec: USD 1,171.15, GBP 918.18 & EUR 1,086.94 per ounce
Silver Prices (LBMA)
14 Dec: USD 17.11, GBP 13.52 & EUR 16.07 per ounce
13 Dec: USD 17.01, GBP 13.39 & EUR 16.04 per ounce
12 Dec: USD 16.86, GBP 13.34 & EUR 15.90 per ounce
09 Dec: USD 16.95, GBP 13.45 & EUR 16.03 per ounce
08 Dec: USD 17.13, GBP 13.50 & EUR 15.88 per ounce
07 Dec: USD 16.77, GBP 13.32 & EUR 15.64 per ounce
06 Dec: USD 16.79, GBP 13.17 & EUR 15.63 per ounce
Recent Market Updates
– Silver Fixing By Banks Proven In Traders Chats
– Euro Crisis and Contagion Coming In 2017
– ECB 'Bazooka' Reloaded Until At Least December 2017 – Euro Gold Rises 1%; 13% YTD
– UK £6 Billion Worse Off After Multi Billion Pound Gold "Accounting Error"
– Buy Silver – May Replace Gold As Money In India
– Shariah Gold Standard Approved for $2 Trillion Islamic Finance Market
– Potential "Systemic Crisis In Eurozone" After Italy Votes No, Renzi Resigns
– Gold and Silver Will Protect From Coming Financial Crash – Rickards
– RBS Fail Bank of England Stress Test
– Peak Silver – Supply Deficits Mean Higher Prices
– Bail In Risk – €4 Trillion Banking System In Italy Poses Contagion Risk as Referendum Looms
– Gold Down 13.5% In 13 Days – Trump Bearish For Gold?
– War On Cash Just Got Real – India and Citibank In Australia
The post Shariah Gold Standard Is "Revolutionary" – Mobius appeared first on GoldCore Gold Bullion Dealer.