Peak Silver – Supply deficits continue meaning higher prices

May have experienced a peak in world silver production

Global silver market suffered another large net supply deficit in 2016

Peak silver likely as global silver production will decline to 887 million oz (Moz), down from 893 Moz in 2015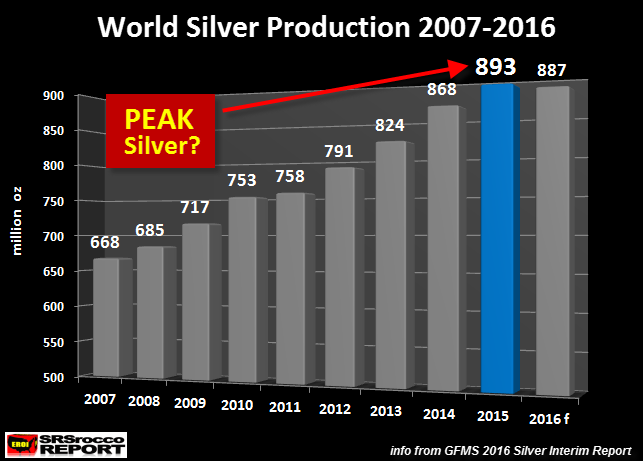 "While forecasted global silver production for 2016 is down only slightly versus last year, GFMS also stated this in their report:

We estimate that mine supply peaked in 2015 and will trend lower in the foreseeable future.

Declining total supply is expected to be a key driver of annual deficits in the silver market going forward.

I will get to the annual silver deficits in a minute, but let's look at their world silver mine supply by region:

"What is interesting here, is that GFMS forecasts the number one silver producer, Mexico, to be down in 2016 by more than 6 Moz.  Last year, I forecasted that global silver production would likely be lower in 2015.  I was going by data by the "World Metals Statistics."  However, Mexico's INEGI (government agency) considerably revised their figures higher for 2015.  While I have seen revisions take place, the revisions by Mexico's INEGI for 2015 were quite substantial.

Regardless, GFMS does a pretty good job with the silver mine supply data.  The important take-away here is that the trend of global silver production will likely be lower going forward."
Read the full report on SRS Rocco here
GIVE THE GIFT OF SILVER THIS CHRISTMAS
Silver bullion coins – like Silver Maples, Philharmonics, Britannias, Nuggets (Kangaroos) and Eagles  – are great gifts for loved ones at Christmas time.
Silver Maples 2016 (1 oz) 
Besides being a wonderful Christmas present for loved ones, they are a great way to pass on wealth to the next generation. They are a great way to teach younger generations the value of savings and the value of insurance against currency debasement and financial collapse.
We have very competitive prices – some of the most competitive internationally. We are now delivering legal tender silver coins, VAT free, in the UK and throughout the EU. Give the most precious of gifts this Christmas.
 
Gold and Silver Bullion – News and Commentary
Gold little changed as dollar holds losses (Reuters.com)
Gold Posts Biggest Advance in Four Weeks as Dollar Declines (Bloomberg.com)
Oil up ahead of OPEC meeting; dollar, stocks dip (Reuters.com)
London zinc charges to 9-yr high, lead hits 5-yr high (Reuters.com)
Islamic finance body approves standard for gold-based products (Reuters.com)
Bonds set to snap three-decade winning streak as Fed, Trump plot next moves (CNBC.com)
How Donald Trump's economic plans will lead the Fed to reverse course on policy: Schiff (CNBC.com)
Interventions in gold and currency markets by central banks (GoldSeek.com)
Here's what happened when ancient Romans tried to drain the swamp (SovereignMan.com)
The Hyperinflationary Endgame: Venezuela Currency Crashes 15% In One Day (ZeroHedge.com)
Gold Prices (LBMA AM)
29 Nov: USD 1,187.30, GBP 952.45 & EUR 1,119.98 per ounce
28 Nov: USD 1,189.10, GBP 956.51 & EUR 1,117.99 per ounce
25 Nov: USD 1,187.50, GBP 953.30 & EUR 1,121.83 per ounce
24 Nov: USD 1,187.25, GBP 953.60 & EUR 1,125.04 per ounce
23 Nov: USD 1,213.25, GBP 980.00 & EUR 1,143.00 per ounce
22 Nov: USD 1,217.55, GBP 978.91 & EUR 1,144.98 per ounce
21 Nov: USD 1,214.95, GBP 984.72 & EUR 1,143.39 per ounce
Silver Prices (LBMA)
29 Nov: USD 16.54, GBP 13.26 & EUR 15.61 per ounce
28 Nov: USD 16.68, GBP 13.45 & EUR 15.73 per ounce
25 Nov: USD 16.47, GBP 13.21 & EUR 15.55 per ounce
24 Nov: USD 16.31, GBP 13.09 & EUR 15.43 per ounce
23 Nov: USD 16.56, GBP 13.36 & EUR 15.59 per ounce
22 Nov: USD 16.76, GBP 13.46 & EUR 15.77 per ounce
21 Nov: USD 16.68, GBP 13.47 & EUR 15.69 per ounce
Recent Market Updates
– Bail In Risk – €4 Trillion Banking System In Italy Poses Contagion Risk as Referendum Looms
– Gold Down 13.5% In 13 Days – Trump Bearish For Gold?
– War On Cash Just Got Real – India and Citibank In Australia
– Russia Gold Buying In October Is Biggest Monthly Allocation Since 1998
– Stocks, Bonds, Pension Funds "Will Be Wiped Out…" – Rickards
– Physical Gold Is A "Long-Term Position" as "Hedge Against Governments"
– Gold Sell Off On Fed Noise – "Interesting Times" To "Support Gold"
– Islamic Gold – Vital New Dynamic In Physical Gold Market
– Peak Gold Globally – "Bullish For Gold"
– Gold Price Should Go Higher On Global Risks and Trump – Capital Economics
– President Trump – Why Market Loves Him and Experts Wrong
– 'Helicopter Money President' Trump To Create Inflation and Gold Will Rise
– Central Bank Gold Demand continues in Q3
 
The post Peak Silver – Supply Deficits Mean Higher Prices appeared first on GoldCore Gold Bullion Dealer.